Links to articles and videos about Oprah and TM
Oprah Winfrey and her staff have learned Transcendental Meditation.
Oprah flew in her jet to Fairfield Iowa on October 19, 2011
meditated in the Golden Dome, and visited Maharishi School
for a feature on the community for her LifeClass show.

---
Scientific Research on TM
Over 600 scientific studies done at over 100 independent research institutions including Harvard Medical School, in over 160 peer reviewed journals validate the benefits of TM. Many of these studies are reprinted in 7 volumes of the Collected Papers available from Maharishi University Press.

TM.org/research-on-meditation
First published study in 1971
Top 100 published studies
David Lynch Foundation TM research


Physiological research has shown that Transcendental Meditation gives rise to a unique state of deep rest characterized by marked reductions in metabolic activity [3-13], increased orderliness and integration of brain functioning [14-27], increased cerebral blood flow [6, 28, 29], and features directly opposite to the physiological and biochemical effects of stress, including skin resistance changes [3, 8, 30, 31] and reductions in plasma cortisol [32-35], arterial blood lactate [3, 6, 7, 11, 30], and muscle tone [15, 36]. Several other neuroendocrine changes have also been observed during Transcendental Meditation [31, 37-44]. Taken together, these studies clearly distinguish the physiology of Transcendental Meditation from sleep or simple relaxation [13, 30]
Students at Maharishi International University in Fairfield, Iowa, who regularly practiced Transcendental Meditation, increased significantly in intelligence over a 2-year period, compared to control subjects from another Iowa university. This finding corroborates the results of two other studies showing increased IQ in Maharishi International University students.

Reference I: Transcendental Meditation and improved performance on intelligence-related measures: A longitudinal study, Personality and Individual Differences 12: 1105-1116, 1991. Reference II: Longitudinal effects of the Transcendental Meditation and TM-Sidhi program on cognitive ability and cognitive style, Perceptual and Motor Skills 62: 731­738, 1986.


Peer Reviewed Scientific Journals

This study found that during the Transcendental Meditation program some of the early sensory components of the brain's response to somatosensory stimulation (0–100 msec) are more widely distributed across the cortex. This study, by Dr. Nicolai Nicolaevich Lyubimov, Director of the Moscow Brain Research Institute's Laboratory of Neurocybernetics, indicates that during the Transcendental Meditation program there is an increase in the areas of the cortex taking part in perception of specific information and an increase in the functional relationship between the two hemispheres.

References:

Proceedings of the International Symposium Physiological and Biochemical Basis of Brain Activity, St. Petersburg, Russia, (June 22–24, 1992).
2nd Russian-Swedish Symposium New Research in Neurobiology, Moscow, Russia, (May 19–21, 1992).

After one year of practice of the Transcendental Meditation program, elementary school students showed significant gains on the lowa Tests of Basic Skills, a nationally standardized test (ref. 1). A second study showed significant gains in high school students (grades 9–12) on the lowa Tests of Educational Development (ref. 2). A third study (ref. 3) found that the length of time students had been practicing the Transcendental Meditation program was significantly correlated with academic achievement, independent of student IQ scores.

References:

Education 107 (1986): 49–54.
Education 109 (1989): 302–304.
Modern Science and Vedic Science 1 (1987): 433–468.

National Institutes of Health
The NIH has awarded more than $24 million to study the benefits of the Transcendental Meditation technique for improving brain functioning and cardiovascular health during the past 20 years. More

American Medical Association
The AMA's journal Archives of Internal Medicine published a recent study showing the TM technique is highly effective in preventing the risk factors for high blood pressure, diabetes, and obesity. More

American College of Cardiology
During its annual convention, the ACC hosted a symposium on the research conducted at more than a dozen independent universities and medical schools on the effects of the Transcendental Meditation technique for reducing heart disease, hypertension, stroke, cholesterol, atherosclerosis, and heart failure. More

American Psychological Association
During its annual conference last year, the APA featured research on the TM technique that documents the positive, long-term benefits of the practice for self-actualization and self-development. More

Herbert Benson, MD and Robert K. Wallace PhD of Harvard Medical School published the first study on meditation, "A wakeful hypometabolic physiologic state" in the American Journal of Physiology, 1971

Oxygen consumption was found to be deeper than during sleep during TM.

Blood lactate levels, an indicator of stress, decreased during meditation
---
Regular Meditation Slows the Rate of Biological Aging
Maharishi University of Management Faculty
are examples of the knowledge they teach.
Professor James Shrosbree, MFA, Art Department



Professor Chris Jones, Ph.D., Education Department
Photos are from the 1980 faculty year book
and faculty web pages from 2006 and 2012.
---
Biological Aging as measured by:

PHYSIOLOGY

Blood Pressure - systolic

Blood Pressure - diastolic

Cardiovascular efficiency

Cerebral blood flow

Vital capacity

Temperature homeostatis

EEG alpha power

Visual evoked potentials P300 latency

Reflex latency (monosynaptic reflex

Reflex recovery time (paired H-reflex)

Muscle contraction time

Neuromuscular coordination

Insomnia

Sleep disturbance / awakenings

Daytime sleep

Susceptibility to stress

Periodontal health

Erythrocyte sedimentation rate

BIOCHEMISTRY

Serum cholesterol

Serum DHEAS (dehydroepiandrosterone sulphate)

Efficiency of endocrine control (pituitary-thyroid)

Glucose tolerance

PERCEPTION and
MIND/BODY COORDINATION

Visual acuity

Auditory threshold

Dichotic listening

Field independence

Perceptual flexibility

Behavior rigidity

Perceptual-motor performance

Reaction time - simple

Reaction time - choice

Complex sensory-motor

PSYCHOLOGY

Fluid intelligence

Creativity

Learning ability (paired associate)

Memory - verbal

Memory - visual

Organization of memory

Cognitive flexibility

Depression

Self-evaluation of health

MEDICAL CARE REQUIREMENTS
Patient days in hospital

Outpatient visits

Health care costs
---
Articles about Oprah and TM
Oprah spends the day in Fairfield, Iowa—one of the safest, greenest and most unusual communities in America. It's the last place you'd expect to find two huge golden domes built for the thousands of residents who rush there to meditate twice a day. Watch a sneak preview; then tune in for the full episode of Oprah's Next Chapter on Sunday, March 25, at 9/8c.

Read more:
http://www.oprah.com/own-oprahs-next-chapter/
Sneak-Preview-Oprah-Visits-Americas-Most-Unusual-Town-Video

Des Moines Register
Saturday March 24, 2012
Fairfield's fame levitates after Oprah's meditation

by TODD ERZEN

The already more-well-known-than-you-think town of Fairfield, Ia., is about to have its national visibility grow by Oprah-esque proportions...continued



Oprah Winfrey speaks with Fairfield Mayor Ed Malloy inside a golden dome on the Maharishi University of Management campus during her Oct. 19 visit to Fairfield


Fairfield Ledger
Wednesday, March 21, 2012
Fairfield Readies for Sunday debut on Oprah network


Sunday's televising of "Oprah's Next Chapter" featuring Fairfield and Transcendental Meditation is expected to generate interest in the community.

A number of initiatives are underway to aid tourists and potential visitors.

"There's a lot of excitement surrounding the airing," said Maharishi University of Management alum Mariam Daudi, a coordinator for many of the initiatives. "The whole community is coming together to prepare in case there's a big response. It's fulfilling to work with so many different community leaders." ...continued




WATCH THE SHOW

Oprah's trip to Fairfield will air at 8 p.m. Sunday as part of her new weekly series, "Oprah's Next Chapter," on her cable network, OWN. (Available on Mediacom, Dish Network and DirecTV.) A free public showing will take place at the Sondheim Theater in the Fairfield Arts & Convention Center. Doors open at 7 p.m. Watch a sneak peek of Sunday's show at DesMonesRegister.com





by KTVOtv

http://www.huffingtonpost.com/jeanne-ball/meditation_b_1373321.html




Dr. Oz discusses
Transcendental Meditation
---
News Article from Yahoo News by Rik Merchant,
October 19, 2011. Oprah Winfrey surprised the ladies of Fairfield, Iowa who practice Maharishi Mahesh Yogi's Transcendental Meditation (TM) and TM-Sidhis programmes when she meditated with them this Wednesday evening for twenty minutes in Bagambhrini Golden Dome--the twin to the Patanjali Golden Dome for men. Exempt from showing the mandatory badge, she was admitted by the checkers with a gleeful, "We know who you are." Oprah then entered the large dome--lit by blue and gold lights for the occasion, stocked with her film crew and cameras, and filled with nearly five hundred ladies seated in deep silence. Group meditation began.
Ms. Winfrey left the dome as the other ladies continued with the Sidhis portion of the programme, which includes yogic flying. She reportedly said she had meditated many times in many places but had never experienced anything amazing like this. At the programme's end, the ladies bubbled with excitement about their 'powerful meditation experience with Oprah'. Meanwhile, Oprah was spotted at a couple of local hot spots-- café-bookstore Revelations and authentic coffeehouse with musicians venue Café Paradiso.
Ms. Winfrey arrived this morning in her private Global Express jet. Her staff arrived a week earlier to begin work on an hour-long show on Fairfield's meditation community for
Oprah's Lifeclass
, to be seen on the
Oprah Winfrey Network
(OWN). Fairfield was largely a small farming town with a modest collegiate population of
Parsons College
until 1973 when
Parsons
closed and Maharishi re-opened the
campus
as
Maharishi International University
(now
Maharishi University of Management
), bringing in droves of meditators.
A segment of the show will be on the Maharishi School of the Age of Enlightenment (MSAE), which encompasses Kindergarten through Grade 12. Ms. Winfrey was overheard saying at MSAE earlier today that these children are changing the world. She also said (paraphrased) 'Fairfield was a best-kept secret but will not be now that she's been here'. She told at least one MS class that 'some people are working toward raising consciousness but the MS students are living raising consciousness'.
In life, Maharishi Mahesh Yogi attracted many celebrated allies to his cherished desire for world peace--The Beatles, film director David Lynch, singer-songwriter Moby are just a few. Since his passing on February 5, 2008 at age 97, his TM Movement and its proponents have continued to attract new meditators. Six-million-plus TM meditators around the world--both the unsung and the celebrated--are evolving toward Maharishi's goals for everyone: health and wealth; dynamic creativity and increased energy; inner peace and happiness--ingredients for world peace.
Oprah Winfrey learned Transcendental Meditation this past summer and paid for her entire company staff to also learn TM. As a new TM celebrity, she likely has the most clout. Touted as an American businesswoman, talk-show host, actress-producer, the richest African American of the 20th century, she is also touted as the greatest black philanthropist in American history and she is considered the most influential woman in the world. It might even be said unarguably that Oprah Winfrey is the greatest philanthropist of any sex, race, or creed in the 20th century--running into the 21st--and is the most influential person in the world. One could surmise that Ms. Winfrey's innate influence will draw many millions more people to learn the Transcendental Meditation technique and so further raise world consciousness
Links to more news articles
http://www.amareway.org/holisticlivingtag/oprah-on-tm-oprah-winfrey-and-transcendental-meditation-in-fairfield/
Oprah's network to air Fairfield footage


Wednesday, November 23, 2011

LOS ANGELES, Calif. - Oprah Winfrey's visit to the Maharishi University of Management campus last month will be included in the original series "Oprah's Next Chapter," which begins New Year's Day on Oprah Winfrey Network television.

An airdate for the episode about Oprah's visit to Fairfield has not been released yet.

The series premiere is two hours, from 8-10 a.m. Jan. 1. The series will air weekly on OWN as an hour-long program, 8-9 a.m. Sundays, starting Jan. i.

A publicity release about the series says, "During the first season...Oprah travels to a small town in Iowa devoted to the practice of Transcendental Meditation."

Oprah and a production crew flew into Fairfield Oct. 19, visiting Maharishi School, Maharishi Vedic City and a private residence. She ended her day meditating in the Bagambhrini Dome for women at the regular evening program with hundreds of women meditators on the campus of Maharishi University of Management.

Between her scheduled visits and meditating, Oprah stopped at

Fairfield's downtown square, encountering and visiting with residents, students, waitresses and cafe patrons.

"I'm really looking forward to seeing Oprah's program about her visit to Fairfield," said Jim Karpen, M.U.M. campus newsletter editor. "She apparently really enjoyed being here. Everyone who met her was so impressed with her friendliness and warmth and sincerity. I'm hoping she comes back."

The OWN news release about the series' premiere continues:

"After 25 years, I got myself out of the studio chairs," said Winfrey. "I moved into the next chapter, and I am having more fun than eve - moving around the country and the world talking to people I'm really interested in getting to know and I think viewers will be, too. It is so energizing to be out and about in the world exploring new people, new places and new ideas.

"I sat at the dinner table with a Hasidic Jewish family and tried to explain to the children who have never seen a television what TV is... can you imagine? I fire-walked

See OPRAH, p.7

with Tony Robbins - never pictured myself doing that! I celebrated the power of God and community with Joel Osteen and I'm planning a trip with Deepak Chopra to India where I've never been," she added.

The first season includes episodes of Oprah on journeys to Haiti with Sean Penn nearly two years after the devastating earthquake that took the lives of more than 300,000 people. She tours Skywalker Ranch with George Lucas as her personal guide, and has a slumber party at Southern chef Paula Deen's Georgia estate.

Visit the website www.oprah.com/own/Sneak-Peek-Oprahs-Next-Chapter for more information and photos.
---
Another famous talk show host inspired many people to learn TM in 1975.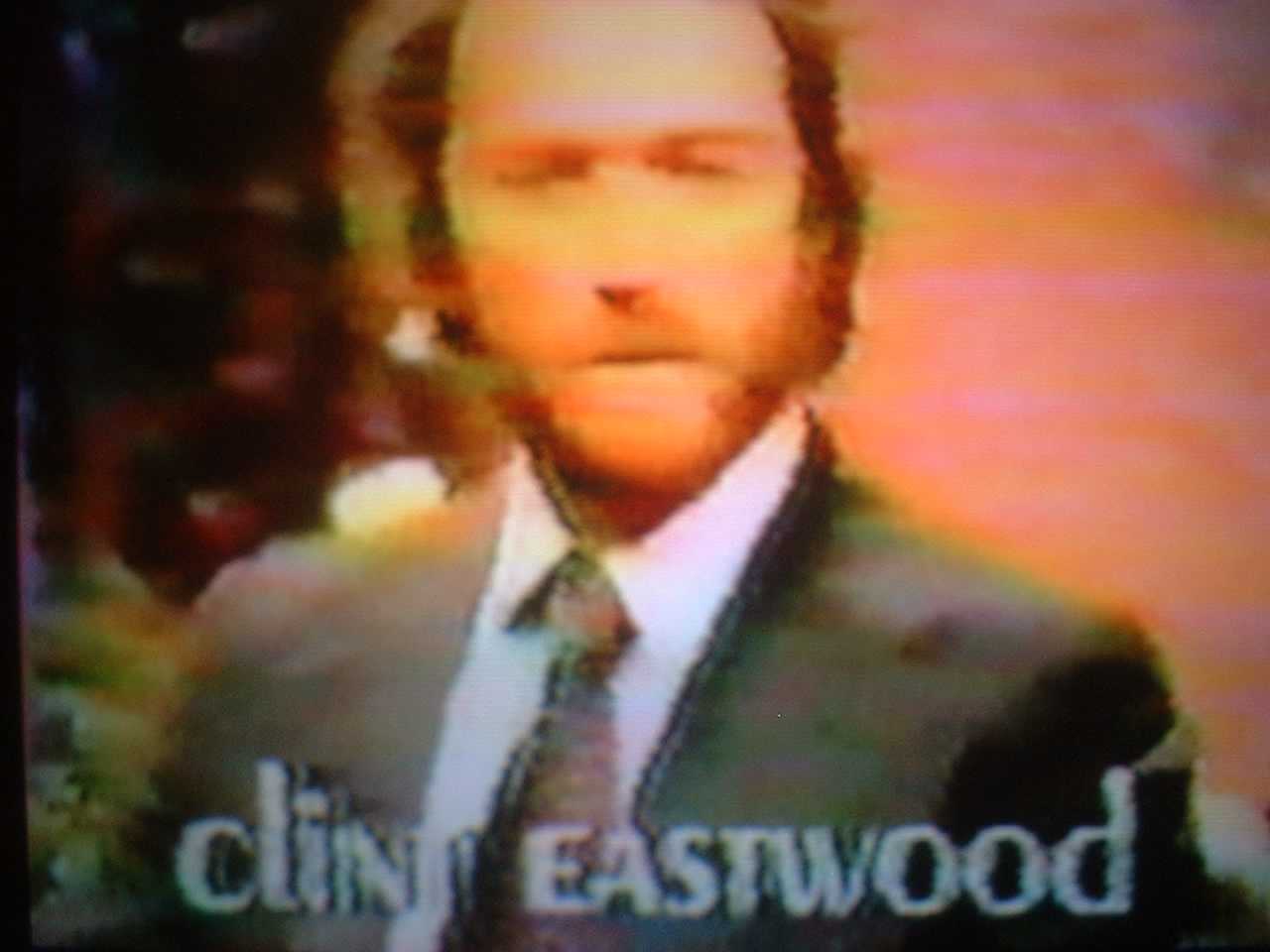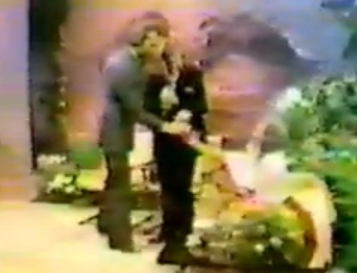 Maharishi and Clint Eastwood on the Merv Griffin Show
---
Oprah visits Maharishi School, Fairfield
By DIANE VANCE, Fairfield Ledger staff writer | Oct 20, 2011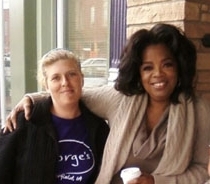 PHOTO SUBMITTED George's Pizza and Steakhouse waitress Danielle Soltis, left, poses with Oprah Winfrey and customer Don Hubbs late Wednesday afternoon outside the restaurant after the television personality surprised downtown Fairfield with a trip to Cafe Paradiso for a quick cup of coffee. "I thought, 'Oh my gosh it's Oprah,'" said Soltis, "and she gave us a hug." Soltis and her husband Tom asked Oprah for a picture, and she asked if they had a camera. Tom Soltis quickly snapped the photo with a cell phone.
"It was a tremendous honor to have Oprah Winfrey here even for a brief visit," said Richard Beall, director of Maharishi School. "We've been in communication for some time about this visit; it's hard to believe it's actually happened."
Oprah came to the kindergarten through 12th grade private school around 11:30 a.m. Wednesday on a planned visit. She brought an entourage of film and production crews.
Fairfield Police Chief Julie Harvey said Oprah's visit included her trip to Maharishi School, a visit to the campus of Vedic scholars (the pundits in Maharishi Vedic City), a visit to a private residence, coffee at Cafe Paradiso and meditating in the women's dome. She left Fairfield airport about 6:30 p.m.
Beall escorted Oprah around Maharishi School to the places she had indicated an interest in visiting. The crews mostly went separate, pre-assigned ways, he said.
"She had an opportunity to watch the children's meditation," said Beall. "Then she participated in meditation with older students.
"She talked briefly with all of the high school students, boys and girls. She selected a few students to interview more closely," said Beall. "All together, she interviewed about 10 students."
Beall said a lot of cameras were around, but they all belonged to Oprah's people. It was Oprah's request to not have publicity about her visit.
"I was so busy, I didn't really think about photos," said Beall. "If Oprah's people release any of the photos, then we'll have some."
All MSAE staff were told not to bring cameras or gifts to school, another source reported.
"She's an absolutely remarkable person," said Beall. "She's clearly passionate – and compassionate of others."
Oprah left the school around 1 p.m.
About three hours later, she was seen around Fairfield's square.
"My wife Linda and I were driving over to pick up The Ledger in the late afternoon," said Ralph Messerli this morning by phone. "We saw a commotion, a bunch of people clustered on the sidewalk near George's Pizza. My wife said, 'that looks like Oprah!' and I said, 'yeah, right.'
"We saw a parking space and started to pull in. Police Chief Julie Harvey was standing nearby and motioned us to go ahead and pull in," said Messerli. "Then I see a gal who looks like Oprah. It was Oprah! She was talking with Fairfield folks, shaking hands and letting people take pictures with her."
The Messerlis stayed in their car, observing.
"After she took some pictures, she walked over to our car, stuck her hand in to shake ours," said Messerli. "We said some nice things and chatted briefly. It was pretty informal."
Messerli said they don't watch the Oprah show normally, but have caught a few now and then.
"She's certainly made her impact," he said. "She's quite a lady."
Married Maharishi University of Management students, Baruti and Mina KMT-Sisouvong had taken an afternoon walk and stopped at Cafe Paradisio about 4:15 p.m.
"I ordered a wonderful organic, raw, chocolate cheese cake," said Baruti by phone today. "My wife and I sat down to enjoy our coffee and cake – and in walked Oprah."
Two bodyguards and a few staff accompanied her.
"She saw my sweatshirt and made a connection," said Baruti.
He was wearing a Morehouse College, Atlanta, sweatshirt.
"She let out a 'Moore-house' in the way it's said around campus," said Baruti. "She got it right. It was fun. We talked a little about Morehouse College, my awards from there and my mentors, Dr. Franklin and Dr. Carter. Oprah asked Mina and I how we came to be in Fairfield."
Baruti is a doctoral candidate and Mina is in the graduate program to earn a master's degree in vedic science at M.U.M.
"One of the nice things about Fairfield is people are very respectful here," said Baruti. "Who ever we might see around town, we stay respectful. Those of us at Cafe Paradiso got to have a little time, sharing afternoon coffee.
"Oprah sat down, people came up to speak with her and she was very friendly and welcoming. She ate and drank, and visited, It was very nice,
"Later, I talked about the experience with Tom Morgan, who was also there," said Baruti. "It's a little strange to admire someone for some time, then meet her casually in everyday life. I'm getting ready to call my mentors in Atlanta and share with them."
An M.U.M. employee shared her experience in an email Wednesday night:
"I walked [along the sidewalk to the dome for evening meditation] behind Oprah tonight. I didn't realize it was her until she turned around near the gate and greeted us.
'Hi ladies,' she said. 'Are you coming here from work? From home?'
Some of us responded 'work,' others 'home.'
'Work? Home? Homework?' Oprah said, then laughed.
We were all going to the women's Golden Dome, a meditation hall here at M.U.M. Oprah recently learned Transcendental Meditation and wanted to experience meditating together with hundreds of women, so she joined us.
It was a very sweet experience. The room seemed to be filled with more love and bliss than usual.
My daughter, 19, especially enjoyed being there. It seems the younger generation were more excited about having her here; the college aged were chatting away animatedly about it.
My daughter's comment afterwards, 'I got to meditate with Oprah in the dome and my sister didn't. I'm gonna rub it in her face!'
---
| | |
| --- | --- |
| | Paul McCartney, Ringo Starr To Reunite At David Lynch Benefit |

Subscribe to the Oprah Winfrey Network
www.Oprah.com