Emma Townshend

I have always been certain
Things are not always what they seem.
Though I haven't stopped turning
I'll be holding on to our dream
We can fly away, fly away
No more doubts for me
and nothing left to say.
Fly away, fly away.
From more darkness, in the sun
Let our spirits be as one.
Emma: What's the matter?
Old soldier: No more wars
Emma: Ah, write your memoirs - "How I Saved the World" and other fairy stories.
Old soldier: Yes. That's a marvelous idea.
You gave your hand,
your heart,
your all
We can fly over it all.
In that magical moment
You reached out and touched the real me
If we give our love
Love will come our way
It's beautiful.
I can see it now. I can.
It's the second most beautiful thing I've ever seen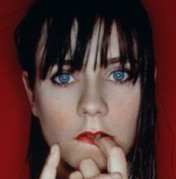 Professor at Oxford
Daughter of Peter Townshend of The Who
---