---

\Disclaimer: This text and below is a TM fan page, not an official TM Organization page
40 Years After Taste of Utopia Course
40 Year Anniversary
December 1983 - December 2023
Course Location: India
29 December 2023 - 13 January 2024
Kenha Village, Chegur, Telangana 509325, India
Please sign the petition and notice of interest to TM Organization leadership
Write your Raja. Lobby to Make Fairfield Utopia again!
Goal: get 10000 Sidhas together in 1 place for a long time.
The Maharishi Effect: In the vicinity of yoga, negative tendencies disappear.
If Sidhas go from Fairfield to India, negative tendencies will go down in India
but will increase in Iowa and the USA - the country that started the most wars.
The purpose of the course is World Peace.
Theoretically, if we wanted the USA to start World War, we would move Sidhas from the USA.
This is not logical. It is counter-productive to the purpose of the course.
With the USA on the verge of starting World War III, no Sidhas should leave Fairfield.
India is peaceful, and not going to start war with nuclear armed Russia.
If anyone it will be the Biden Administration war mongers and Military Industry Profiteers
(from Boeing to Lockheed to Victoria Nuland) pushing and backing nuclear armed Putin into a corner
We need maximum coherence to make America peaceful again.
Taking away Sidhas from the population center of the USA is dangerous.
We need more Sidhas in Fairfield, not fewer, at this crucial time.
India is doing fine, and recently landed a device on the Moon.
Iowa is "a place to grow" the most corn, pork, and soy beans.
Fairfield is a place to grow the most Sidhas
for 10000 Yogic Flyers for a peaceful America and Earth.
Wealthy Sidhas will leave Fairfield if it is no longer the best place for large Sidha courses


Zillow.com/homedetails/1597-Pleasant-Plain-Rd-Fairfield-IA-52556/86987089
10000 Baby Sidhas for the Age of Enlightenment
Evolution of the human species requires procreation of improved next generations of offspring.
Mother Divine and Purusha produce few, if any, children, or evolution in the scientific sense.
Divine Mothers and Papa-rushas produce enlightened children, and true evolution.
The elephant in the Dome. Many adults. But why few if any children?
Amish, Mormon, and Muslim meetings have many kids.
Nothing was mentioned about parents and children at the September 17 meeting.
What suggestions are there for the Christmas holiday? A course in Fairfield?
Instead of focusing on developing our own population from within
practicing Transcendental Meditation as Maharishi Mahesh Yogi taught,
it was mentioned that other "meditation" groups might join us in India.
To increase our "market share" we must create more of ourselves than they do.

In 1979 there were 10000 people in Fairfield. Now there are 9500.
Both approaches are needed for world peace, Short term, and Long term.
10000 Short term - course in India will result more expenses for parents and less child making
10000 Long term - encourage more Sidhas to create children who go to MSAE
How can parents leave their children in Fairfield to go to India for 2 weeks?
Will a course in India help Fairfield be a productive Sidha Breeding Ground?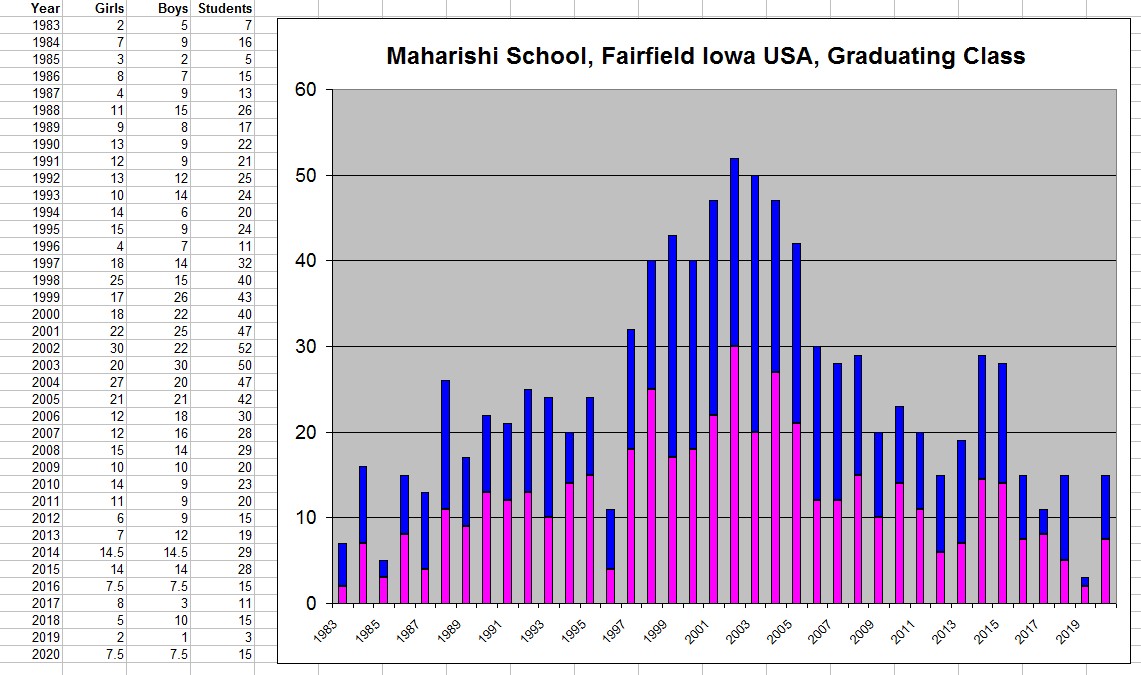 It is very difficult for Americans to get a job India, house, and create a family.
The course in India will drain Fairfield Sidhas, especially parents, of money needed to
send their kids to Maharishi School, which has only about 46 student per grade.
Instead of spending $5000 to go to India, create or adopt a child Sidha to be.
for a permanent community to create coherence for a peaceful America and Earth.
If every Sidha created at least 3 children we would have 10000 Sidhas by now.
Most MIU faculty and staff and Fairfield Sidhas have few if any children.
Dick DeAngelis, MIU Class President of 1981, has many children.
Fairfield has about 10000 citizens. But non-meditators still outnumber TMers.
Among the TM population, crime is very low. It is the non-TMers doing the most crime.
So TMers need to create more children and become the majority.
To perpetuate the Global Country of World Peace Rajas and Rajeshwaris
need to create many offspring, much as the UK needs the Royal Family succession.
Sadly, Maharishi's highly evolved DNA was not kept alive through a son.
He and Amma-ji (the hugging saint) could have created another Maharishi.
The India Course will not help Fairfield create more families of Sidhas.
It will drain the financial resources, and possibly reproductive health, of potential parents
of students learning TM and going to Maharishi School..
Many Sidhas have met their spouses in the Fairfield Sidha Breeding Ground,
decided to stay after the World Peace Assembly, get married, buy a house,
and created children who learned TM and went to Maharishi School.
Few Sidhas will stay in India after the Course to do that.
Rick's proposal in April 2014 to Raja Raam to create the Raam as s digital currency.
By owning the 51% Origin Address, the Global Country of World Peace could be worth billions by now.
RaamCoin.com password: mantra
Rick Shaddock scored 156 in IQ, and 40/40 (100%) in Critical Thinking on the WGCTA.com,
In 2013 he told Sidhas about Bitcoin when it was $150. In 2015 he predicted Trump would be President.
| | | | |
| --- | --- | --- | --- |
| Name | State | Date | Top Comments - see signers below |
| Jean T | IA | 2023-04-22 | "I was there in 1983 and I want to be there in 2023" |
| Nancy L | PA | 2023-04-22 | "This is the best place to hold the anniversary! First of all there are 1000 + here already and many of us would make room for visiting participants. " |
| Gerard P | IA | 2023-05-05 | "I remember what the first taste of utopia course did for the world, so it would be prudent to repeat that result at this time in history when things are so difficult. Thank you for letting it happen in Fairfield again as soon as possible." |
| Ellen L | MD | 2023-05-24 | "I think it's a great idea. World consciousness needs a boost." |
NEED of the TIME: Due to the China Virus* the Golden Domes had to close for safety and social distancing, dropping attendance at group program, throwing the USA into unprecedented incoherence: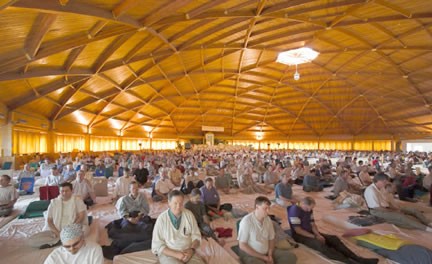 threat of nuclear war, men competing in women's sports and beauty pageants, open borders to welfare dependent foreigners, reducing cultural integrity, "defund the Police", record high crime and murder rates, rioting, looting, cash free bail for repeat criminals, record fentanyl smuggling and deaths, cutting off energy independence, stolen elections, FBI influencing Twitter, trumped up charges and weaponization of law enforcement against conservatives, etc.
* China is not the only country to blame. Gain of Function research at Wuhan Lab was funded with the help of USA's Dr. Fauci.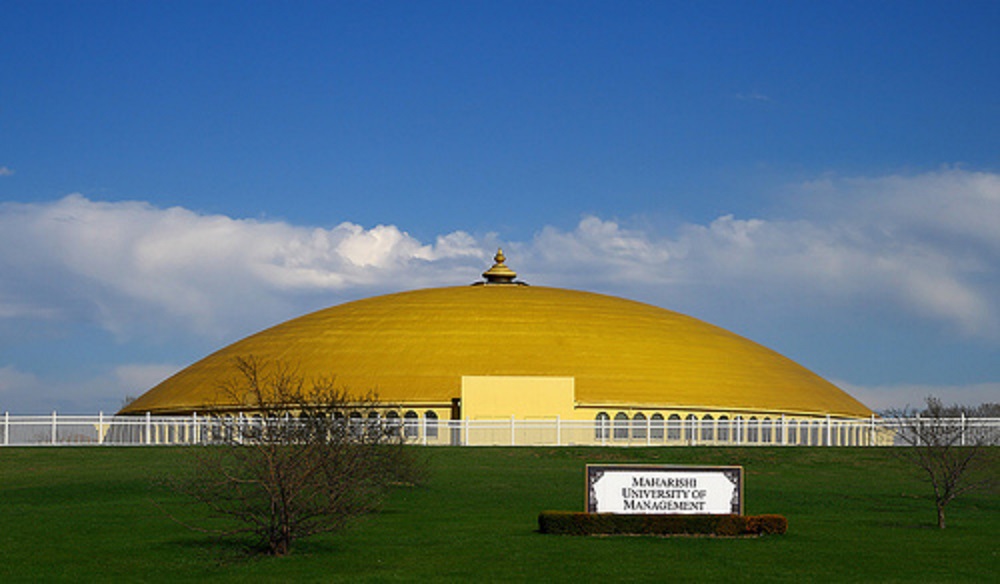 SOLUTION: Large groups of Sidhas regenerating America's brain wave coherence and common sense, hopefully from Fairfield, Iowa. Why?
* Due to Bidenflation, including wasteful spending causing wars, people need an inexpensive place to stay on the Course..
* Travel is expensive, due to record high oil prices, making everything else more expensive
* Fairfield already has many residents, who can simply walk or drive to the Golden Domes
* Fairfield residents can offer free or low cost accommodations for visiting Course Participants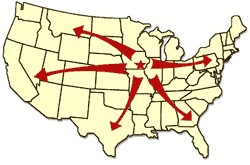 * Fairfield is the Brain Brahmasthan or "Brainmasthan" - the center of the American brains and mind
(more important than the center of American soil), near the population center of the USA,
for maximum benefit from the brain wave coherence generated.
* Since 1983 Fairfield has built many new homes, buildings, and large rooms for Yogic Flying groups, in addition to the 2 Golden Domes
including North Campus Village, Pandit Housing, Field House, Recreation Building, Cambridge Rec Center, and Fairfield Arts & Cultural Center


Southeastiowaunion.com/news/maharishi-vedic-city-seeks-ideas-for-mostly-vacant-pandit-campus
* Many Sidhas have sacrificed living in a city or near beaches to create a Sidha Breeding Ground in Fairfield.
* It is only appropriate for the 40th anniversary of the Taste of Utopia Course to be in the same place as the 1983 Course.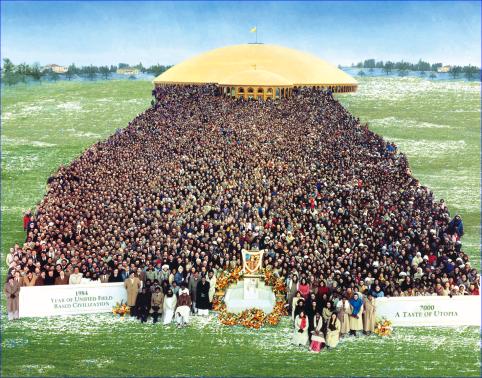 * Only Fairfield has 2 large Golden Domes, and 2 Field Houses to accommodate large groups of Sidhas.
* The Course will be a much needed boon to the Fairfield economy
* Fairfield has many Tourist Attractions
* Fairfield is centrally located in the USA and easy to fly to, with BRL, CID, DSM, and MOL - FairfieldTravelTips.com

* Maharishi School can offer an Open House and inspire more students to attend MSAE. Enrollment has sadly dwindled from 52 graduates in 2002.
* Maharishi International University needs more students interested in Highest First, not just an H1 Visa first.
* Sidhas have dedicated their lives to living in Fairfield, and deserve to have the benefit of big local assemblies. To hold the course elsewhere is insulting their dedication, and leave a bad after Taste. Fairfield Sidhas have jobs and children which make travel elsewhere difficult.
* Paul Faerso has already written and sung a great song in 1983 which can help promote attendance in 2023: Sweet Taste Of Utopia
* Temperature in India is insanely hot, often over 100 degrees Fahrenheit,
requiring living in artificially air conditioned buildings.
In Fairfield, we can breathe natural, fresh air.
https://weatherspark.com/y/150272/Average-Weather-in-Qatar-Year-Round

* Due to Global Warming, Decembers in Fairfield have been mostly above freezing, even getting into the 60 degrees range. So the weather is likely to be quite comfortable for course participants. Usually it is above 32 degrees (freezing temperature).
Help restore Maharishi School attendance from 10 per class to 52 as in 2002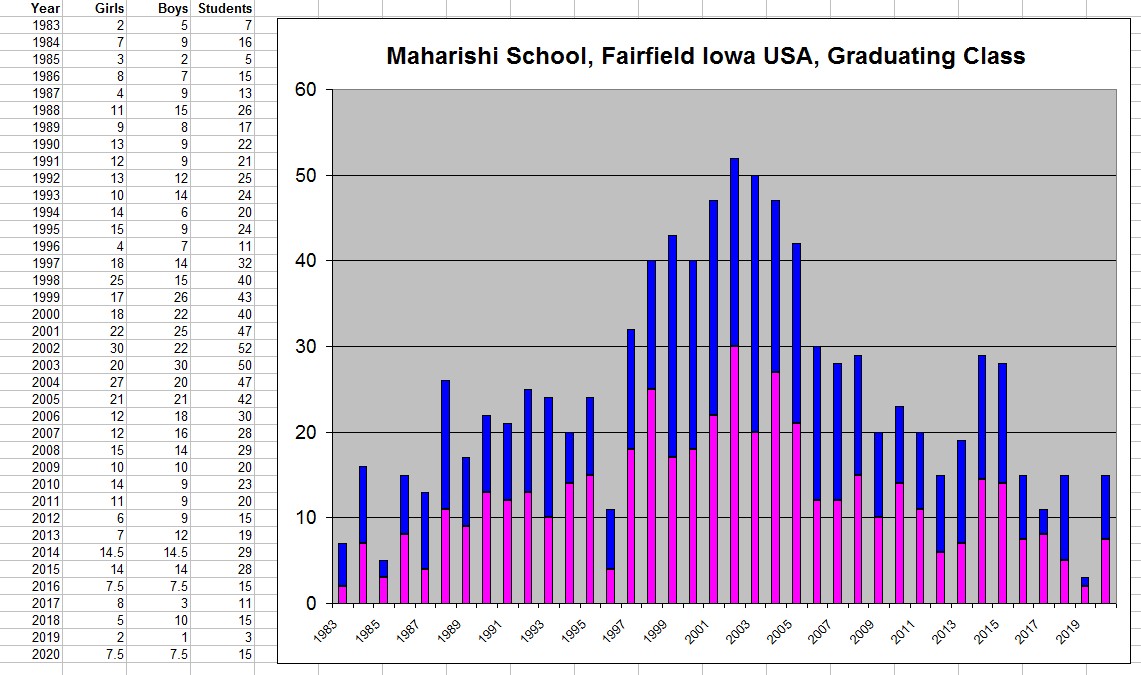 Maharishi School enrollment grew, then dwindled since 1983
Paul Fauerso's song
Sweet Taste Of Utopia (mp3)

Petition Signers so far
| | | | |
| --- | --- | --- | --- |
| Name | City | Country | Signed On |
| Rick S | Fairfield | US | 2023-04-14 |
| Judith H | Fairfield | US | 2023-04-17 |
| Dana M | Wichita | US | 2023-04-17 |
| Jean T | Fairfield | US | 2023-04-22 |
| Nancy L | Mohnton | US | 2023-04-22 |
| Gerard P | Fairfield | US | 2023-05-05 |
| Jayden M | Oak Harbor | US | 2023-05-05 |
| Ani G | Glendale | US | 2023-05-05 |
| Janis R | Orion | US | 2023-05-05 |
| Ayman M | Omaha | US | 2023-05-05 |
| Ellen L | Baltimore | US | 2023-05-24 |
| Allie F | Boston | US | 2023-05-24 |
| Reneshia B | Madison | US | 2023-05-24 |
| Alejandro C | Los Angeles | US | 2023-05-24 |
| Alyssa M | Buna | US | 2023-05-24 |
| Chase V | | US | 2023-05-24 |
| Trisha E | | US | 2023-05-24 |
| Dominic S | Huntersville | US | 2023-05-24 |
| Christina L | Tampa | US | 2023-05-24 |
| Mike C | Ellicott City | US | 2023-05-24 |
| Horst P | Berlin | Germany | 2023-05-24 |
| Robert C | Sydney | Australia | 2023-05-25 |
| Gert O | Liloan | Philippines | 2023-05-25 |
| Luis A | Oaxaca City | Mexico | 2023-05-25 |
| Christian G | Paris | France | 2023-05-25 |
| Shayna R | Kailua-Kona | US | 2023-05-26 |
| Alicia C | Ely | US | 2023-05-27 |
| Pablo M | Rio Hondo | US | 2023-05-27 |
| Gordon T | Durban | South Africa | 2023-05-29 |

Visit the Maharishi International University campus and the Golden Domes
India Course focus is another Rug Pull?


1983-1993 Sidhas sacrificed to build a Sidha breeding ground, large TM group, and MSAE in Washington, DC.
1973-2023 Sidhas sacrificed living near parents, family, lucrative jobs, and nicer weather to build the Fairfield community.

Make Fairfield Great Again
Disclaimer: This is a TM fan page, not an official TM Organization page